About the Doctor
Revolutionary Procedure Developed by Dr. Razdan
Helps Achieve "Earlier" Return of Sexual Function & Urinary Control!
"The worlds first prospective randomized study using Human Amniotic Membrane in post robotic radical prostatectomy patients was successfully completed at the International Robotic Prostatectomy Institute in Miami with the last patient enrolled in November, 2013."
Sanjay Razdan, M.D.,MCh. is the Professor and Chairman of the International Robotic Prostatectomy Institute, a globally recognized state of the art facility, dedicated exclusively to prostate cancer treatment. He is the former Director of the Urology Center of Excellence and the former Chairman of the Department of Surgery at Jackson South Hospital in Miami. As one of the global leaders in Robotic Prostate surgery for prostate cancer, his series is among the largest by a single surgeon in the World. Dr. Razdan is also one of the pioneers in successfully performing salvage robotic procedures for radiation and cryo failures . The center boasts a cancer support line where all his patients can share their experience with prostate surgery.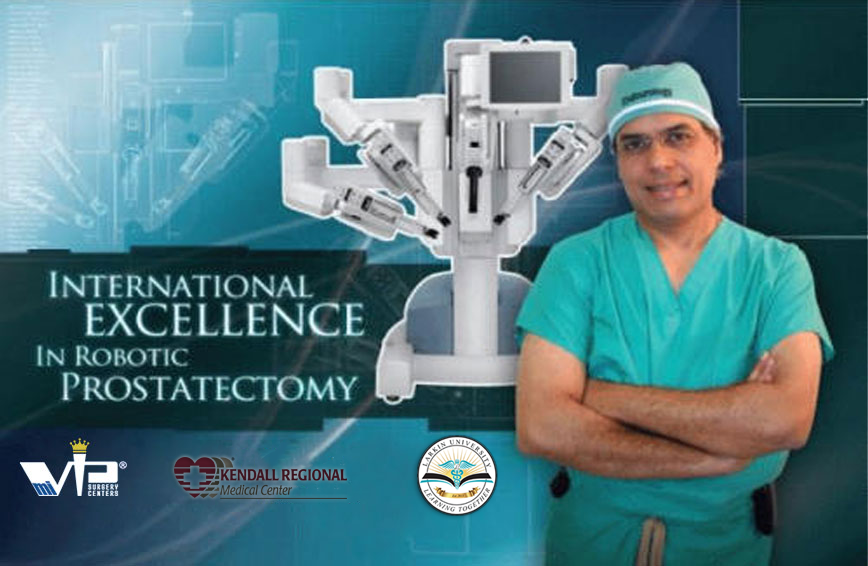 Dr. Razdan graduated at the top of his class in medical school and is the recipient of over 12 gold medallions for academic excellence. He completed his Urology residency at UM/Jackson where again he was ranked as the best graduating resident. He then went on to an Advanced Fellowship in Endourology and Minimally-Invasive Urologic Oncology, including the daVinci robotic surgical system at Thomas Jefferson University Hospital in Philadelphia. While at Jefferson, he, for the second time in his career, received the Pfizer Award for outstanding contribution to the field of Urology. He has also been bestowed with the prestigious "Outstanding Laparoscopic Surgeon" award by the Society of Laparoendoscopic Surgeons. Dr. Razdan is one of the first Urologists in South Florida to perform the state of the art "daVinci Robotic Radical Prostate surgery" . He is also the Director of the "Comprehensive Kidney Stone Center" of Miami, which caters to all aspects of the treatment and prevention of kidney stone disease.