International Prostate Cancer Care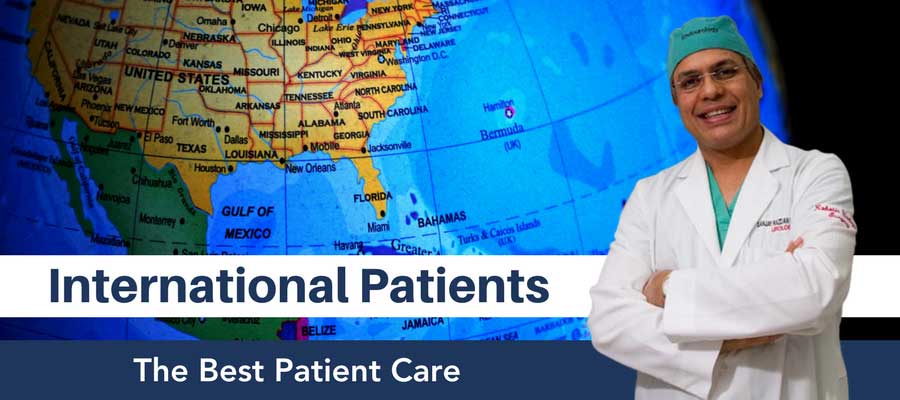 As one of the most experienced prostate cancer surgeons in the world, Dr. Razdan has treated patients from around the world for the best surgical care. Many of Dr. Razdan's patients are international or from another state. Dr. Razdan and his world class team are committed to ensuring that patients and their families have the best experience.
To assist in your travel to our Institute, international patients will be assigned a personal concierge. The concierge will assist in the following:
Language translation and communication. We speak multiple languages. Arrangements can be made for patients who speak other languages as well.
Language translations and assistance in completing all required forms and managing all necessary documentation.
Provide recommendations on hotel and air travel, as well as local transportation services.
Answer all questions relating to the travel process for your surgery.
To prepare for their trip to the International Robotic Prostatectomy Institute in Miami, Florida, patients should take note of the following:
Patients should schedule to spend a full 10 days in Miami, Florida. If you need assistance with scheduling air travel, booking a hotel, or just have general questions, please talk to your concierge.
Robotic prostatectomy surgery with Dr. Razdan takes under two hours.
The surgery is performed at one of several world class facilities in beautiful Miami, Florida . If you need help in scheduling transportation to or from the facilityy, please talk to your concierge.  Please check with your surgical scheduler for location.
All patients that undergo Robotic Prostatectomy usually go home the same day.
Several of our facilities offers patients private rooms which allow a family member to stay with them for their hospital stay. These requests must be made in advance so be sure to reach out to your surgical scheduler to inquire.
After surgery you will have a catheter for one week which will be removed at our office at 3900 NW 79th Ave, Suite 820),  Doral, FL 33166 . Before leaving to fly back home you will have a final post operative visit with Dr. Razdan.
4-6 weeks after surgery you will follow up with your local Urologist for a consult and PSA test. You are required to provide test results and follow up notes to our office.
Patients are encouraged to walk following surgery. As such, it's not uncommon for international patients to enjoy their time in Miami, Florida by enjoying our beautiful weather, our fine dining fine dining throughout South Florida and exploring the many other locations of interest in the city. For food and entertainment recommendations, please talk to your concierge.